THE VALLEY OF LIFE

THE VALLEY OF LIFE


THE VALLEY OF LIFE


THE VALLEY OF LIFE
VAL DE VIE CONSTRUCTION
With over 200 luxury homes completed on Val de Vie Estate, Val de Vie Construction prides itself on upholding a standard of sheer luxury, superior quality and finishes, flexibility, complete transparency, and consistent client communication. Val de Vie Construction takes great care in ensuring that we partner with only the best consultants, such as SAOTA and Stefan Antoni. We place meticulous focus on quality control and customer satisfaction to build beautiful homes in the Valley of Life.
Val de Vie Construction offers homeowners a choice between a range of different products.
Bespoke Homes
Bespoke Homes are purchased directly from the Development Company and are built by Val de Vie Construction.
VAT and transfer costs are included in the purchase.
Val de Vie Construction package prices include the following: Architect's fee, Landscape design fee, HOA scrutiny fees (house and landscape), Drakenstein plan scrutiny fee, NHBRC enrollment fee, Engineer's fee, Land Surveyor's fee, Health & Safety fee, Drakenstein occupation fee, and HOA building levies.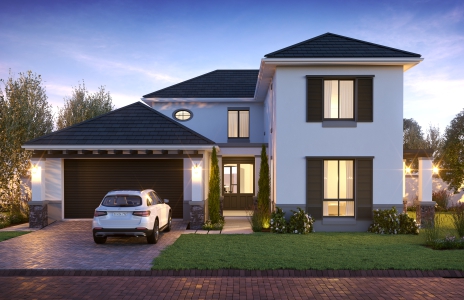 [amo_member id="76364" item-width="250" align="left" item-margin="20" full-width="yes" panel="right"]
[amo_member id="76361" item-width="250" align="left" item-margin="20" full-width="yes" panel="right"]
[amo_member id="80674" item-width="250" align="left" item-margin="20" full-width="yes" panel="right"]
The Vines is all about lifestyle. Incredible facilities, top-notch security, and exquisite natural surroundings are an invitation to living with open doors. More than just a modern estate, The Vines offers residents access to outdoor activities including cycling, running, fishing, polo and more. It's true freedom on your doorstep.
The Vines comprises 12 hectares of prime land, with 142 plots that offer views of the Paarl Mountains and overlook four beautiful lakes as well as a wildlife camp.
When deciding on your perfect home, you are offered the selection of five Antoni Associates' architectural plans, designed exclusively for The Vines by one of South Africa's most well-known architects, Stefan Antoni.
The Vines at Le Domaine comprises 72 stands that offer views of Paarl Mountain and the majestic Simonsberg. Not only will this new development fullfil your desire for a beautiful and contemporary home but will also provide you with an incomparable lifestyle, true to Val de Vie's core values.
The open-plan layout of the houses has therefore been designed in such a way that inside-to-outside living is encouraged, enabling you to celebrate the surroundings and the environment, as well as the security of the larger estate.
This is your opportunity to own a home designed by one of South Africa's most celebrated architects, Stefan Antoni, on South Africa's top residential estate.
In partnership with Vanderbilt Construction, the home of your dreams awaits your selection from a portfolio of four tastefully designed floor plans, collectively known as The Oaks. This unique property offering eliminates the need to start the design process from scratch, saving you both time and money in the development of your home on one of Val de Vie Estate's newly launched plots. The designs also allow room for customisation to ensure that your requirements are met and that the end product is perfectly in line with your expectations. Spacious bedrooms, open plan living areas, modern kitchen design and cloakrooms make each home the perfect family and entertainment home.
Options available at Val de Vie: 1, 2, 3, 4
Options available at Pearl Valley: 5, 6
In partnership with one of South Africa's most celebrated architects, Val de Vie Estate presents a new luxurious plot and plan design offering. Property investors can now pair any developer stand on the greater Val de Vie Estate with an exclusive Stefan Antoni Signature Series design including either a 342m² single
storey, a 370m² single storey or a 486m² double storey home. All of the house options come with a pool as a standard. This all-inclusive offering provides buyers with an exquisite stand, a sophisticated contemporary design and a respected contractor to build their dream home.
The Stefan Antoni Signature Series homes celebrate the best that South Africa has to offer in terms of residential, urban and estate design. Stefan Antoni's designs have gained global recognition and his iconic buildings can be found in Los Angeles, the Bahamas, Turkey and St. Tropez. In a previous successful partnership with the estate, Stefan Antoni was responsible for designing the highly praised
Val de Vie Polo Village, a development that was the recipient of numerous accolades at the prestigious International Property Awards. He is regarded as one of a number of architects who has contributed to setting a new standard of high-end design and professionalism in South Africa
Modern and immaculate homes boasting spacious living areas and high ceilings are perfect for entertaining family and friends. Open plan living areas have doors that open onto a covered patio with a wooden deck that surrounds the sparkling pool and boma. There is a large family room with a fireplace for cold winter evenings and spacious bedrooms with built-in cupboards and en-suite bathrooms.
The main bedroom leads into an en-suite bathroom with double basins, toilet, shower andbath. A beautiful kitchen including a gas hob, electric oven, extractor fan, granite tops and a large scullery with ample space. Direct access to the home is gained through an automated garage.
Bordeaux homes are designed for those in search of secure lock up and go, low maintenance living. Bordeaux homes offer an open plan kitchen, a freestanding closed system wood burning combustion fire place, a kitchen island and separate scullery. To add even more comfort and space, the design offers open trusses to the living areas which flow into an undercover patio with a built-in braai; perfect for relaxing and overlooking the swimming pool and wooden deck.
The lovely Bordeaux plot and plan homes offer generously proportioned bedrooms with built-in cupboards and all en-suite bathrooms with modern, tasteful fittings. Superb quality finishes include double glazed aluminium windows and stack away doors; along with a choice of modern cupboards, tiles and carpets.